General
In general, fine filtering depends on how many solids or liquids are contained in the gas. There are various filtration systems, that can be divided into vertical or horizontal constructions. In addition, a second dividing can be made based on the filtration stages. In the following are some typical filter types listed:
Vertical
1 Stage – Cartridge filter, with cellulose or coalescer elements
2 Stages
first stage – baffle plate or single cyclone or multi cyclone
second stage – cellulose or coalescer elements
Horizontal
2 Stages
first stage – coalescer elements
second stage – demister or vane pack
2 Stages
first stage – baffle plate
second stage – coalescer elements
These filter types are only a selection of the most required filter types by the international specifications. There is a large number of different filter systems that cannot all be listed here, but can also be offered by us on customer request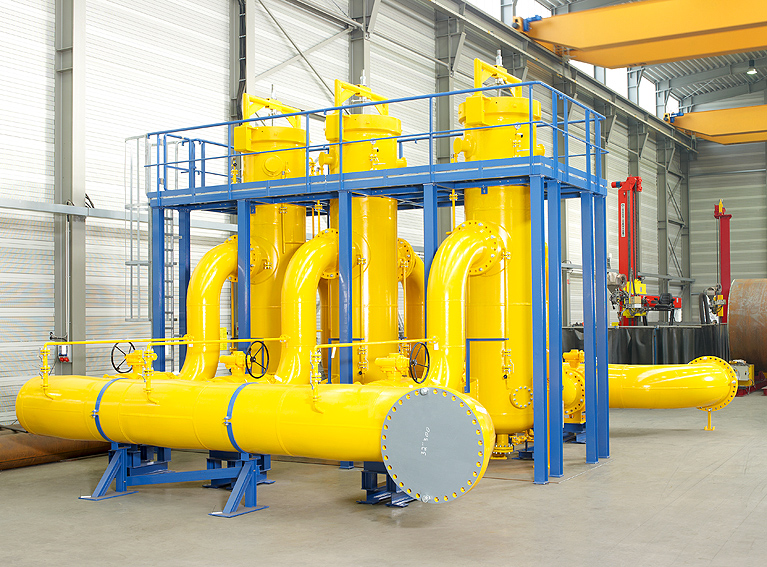 The different types are used according to the contamination of the gas with solids and liquids. A separation efficiency of 1µm for solids and liquids can be achieved.
Sizes and pressure rating
ANSI 150 / ANSI 300 / ANSI 600 ANSI 900
Main design criteria
System arrangement: 1×100%, 2×100%, 3×50%, with bypass, etc.
Design code: ASME, AD2000, CE, NACE-Code MR 0175 / ISO 15156
Construction: vertical / horizontal
Cartridges: cellulose or coalescer
Davit, flange or quick opening closure
Condensate discharge (manual or automatic)
Corrosion allowance
Third party inspection
All design criteria, sizes or pressure ratings can be offered on request